How To Download Logic Pro
Apr 21, 2023
Whether you want to make music just as a hobby or you wish to become a professional music producer, having a powerful Digital Audio Station (DAW) is a must.
If you're a Mac user, Logic Pro is one of the best workstations out there.
Choosing the right DAW depends on your intended use, skills, and personal preferences. Logic Pro is known for its comprehensive suite of audio mixing and editing tools, an abundance of built-in high-quality virtual instruments, and a rich sound library.
I've been using Logic Pro for over five years to record, mix, and master my songs. However, I know a lot of other producers who prefer to work with Ableton Live or Pro Tools. All of which are capable. In the end, it's primarily a matter of taste and preference. I first started with GarageBand, the free alternative from Apple, it's great for new beginners but I suggest if you're looking to do this full time and produce radio ready music, you'll want a professional DAW like Logic Pro.


If you've previously worked with GarageBand to make songs, getting comfortable with Logic's interface won't take long. But even if you're a complete beginner to the world of music production, Logic's user-friendly interface makes it much more straightforward than other professional DAWs to learn.
Starting your journey with Logic Pro can be overwhelming, but don't worry! In this post, I will show you everything you need to know about downloading and setting up Logic Pro properly on your computer.
If you're not sure about spending money on purchasing Logic Pro right off the bat, stick around until the end of this post, where I show you how to install a 90-day trial version of it for free.
Minimum System Requirements To Run Logic Pro
If you want to run the latest version of Logic Pro, you'll need to make sure your computer runs MacOS 12.3 or later. In order to check this, go to the top left corner of your computer screen:
Click on the Apple logo 

Click on "About This Mac."

A small window opens that shows your computer's specs, including the version of MacOS it is running.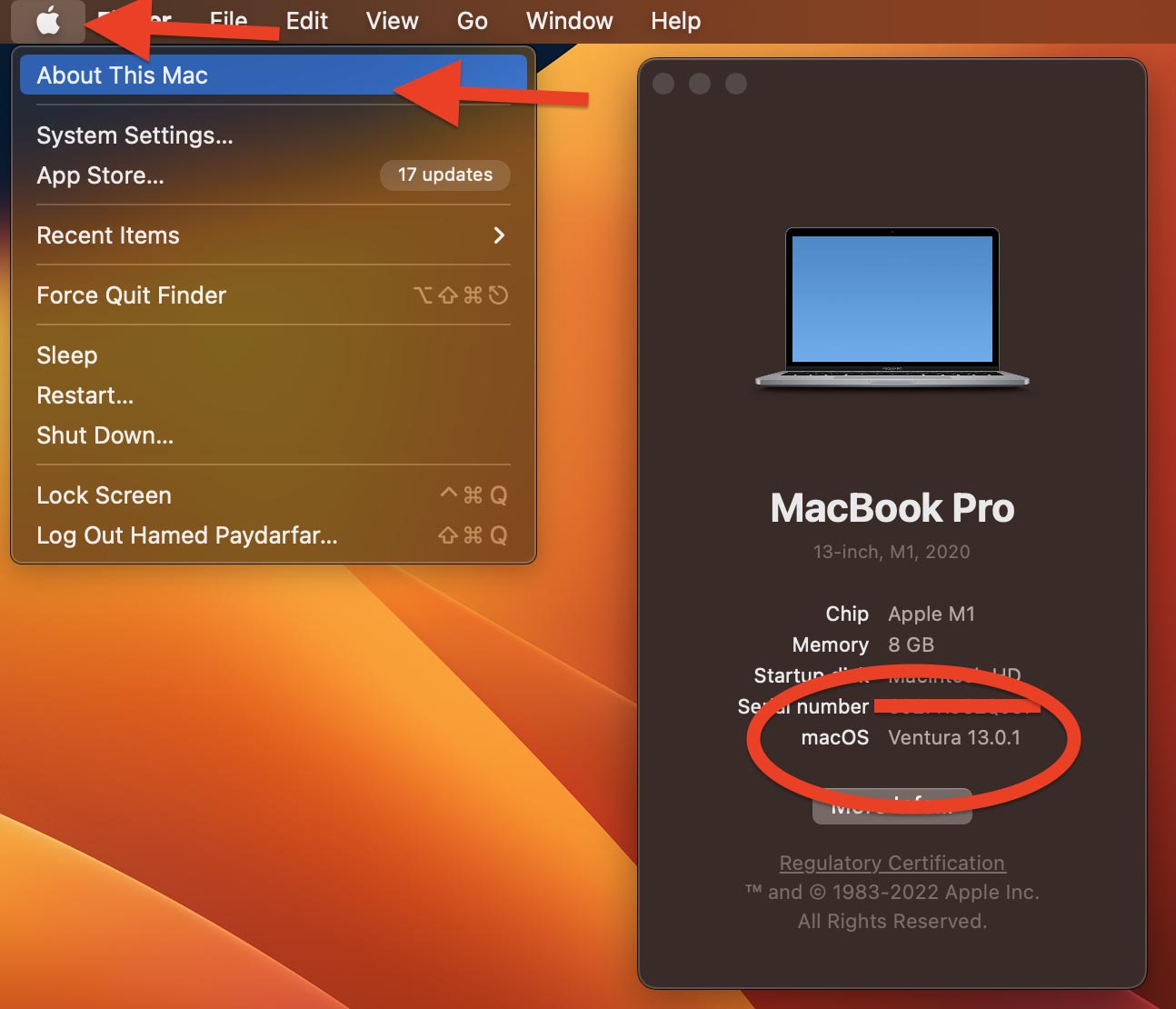 If you don't have the latest version of MacOS on your computer, you can download and install the update from "System Settings" (called 'Preferences" in older versions of MacOS).
According to Apple's official technical specifications, you'll need at least 6GB of storage space to install Logic Pro. If you want to download Logic's entire sound library (I'll get into that further in this post), it will take as much as 72GB of storage.
How To Download Logic Pro from App Store
Downloading Logic Pro is reasonably simple. All you need to do is to open the App Store on your Mac. If you can't find the App Store on your computer:
Open the Spotlight Search by pressing "Command + space bar."

From the search bar, type "App Store" and click on the blue icon that shows up.
In the App Store's search bar, type "Logic Pro" and press 'return' on your keyboard.

Logic Pro should pop up in search results. Click on the price tag ($279.99 on the Canadian store) and proceed with purchasing the app.

The App Store will take the money from the credit card you've used to set up your Apple ID.

If you haven't connected your bank account to your Apple ID, you can use iTunes gift cards to charge your Apple account instead.
Once you download Logic Pro, the installed app should be in your computer's Launchpad and Finder's Applications folder. Thankfully, Logic Pro comes as a one-time purchase. Once you buy it, all the updates and new features that come in the future will be available to you for free. I love this about Apple! Unfortunately, it's not the same with DAW's like Pro Tools, where you have a monthly fee.
Note: if you can't find Logic Pro in the App Store, it could be because of two things:
Either you're not running the latest MacOS on your computer, or

Your Mac is too old to run Logic Pro.
In another post, I've introduced the best Macs for music production . Be sure to check this post out if you're in the market for a new computer for music production.
Continuing on, the first time you open Logic Pro, it will ask you to download some files and sounds to make it fully functional. Once that's out of the way, you can start making music!
Tip: If you have an iPhone or iPad, you can download Logic Remote to control some parameters on a second screen. For that, you'll need iOS/iPadOS 14.0 or later.
Download Logic Pro's Instruments and Loops
One of Logic's advantages over other DAWs is its stock sound library.
To download Logic's virtual instrument sounds:
Open a new project in Logic Pro.

Add a new track (Audio or Software Instrument).

Click on the library from the top left corner of the window (or press "Y" on your keyboard).

Any sound effects/virtual instruments with a little arrow pointing down next to them mean they are not downloaded on your system. However, by simply clicking on the down arrow, Logic will start downloading them. Remember though, if you end up downloading all sounds, it can take up a lot of storage space on your computer. But, you do have the option to save all the Logic Pro free sounds on an external hard drive.
If you want to download and use Apple's Audio loops:
From the top right corner of your screen, open the Loop Browser (or press "O" on your keyboard).

From the Loops menu, any of the sounds with a little arrow pointing down next to it can be downloaded to your library and used in your tracks.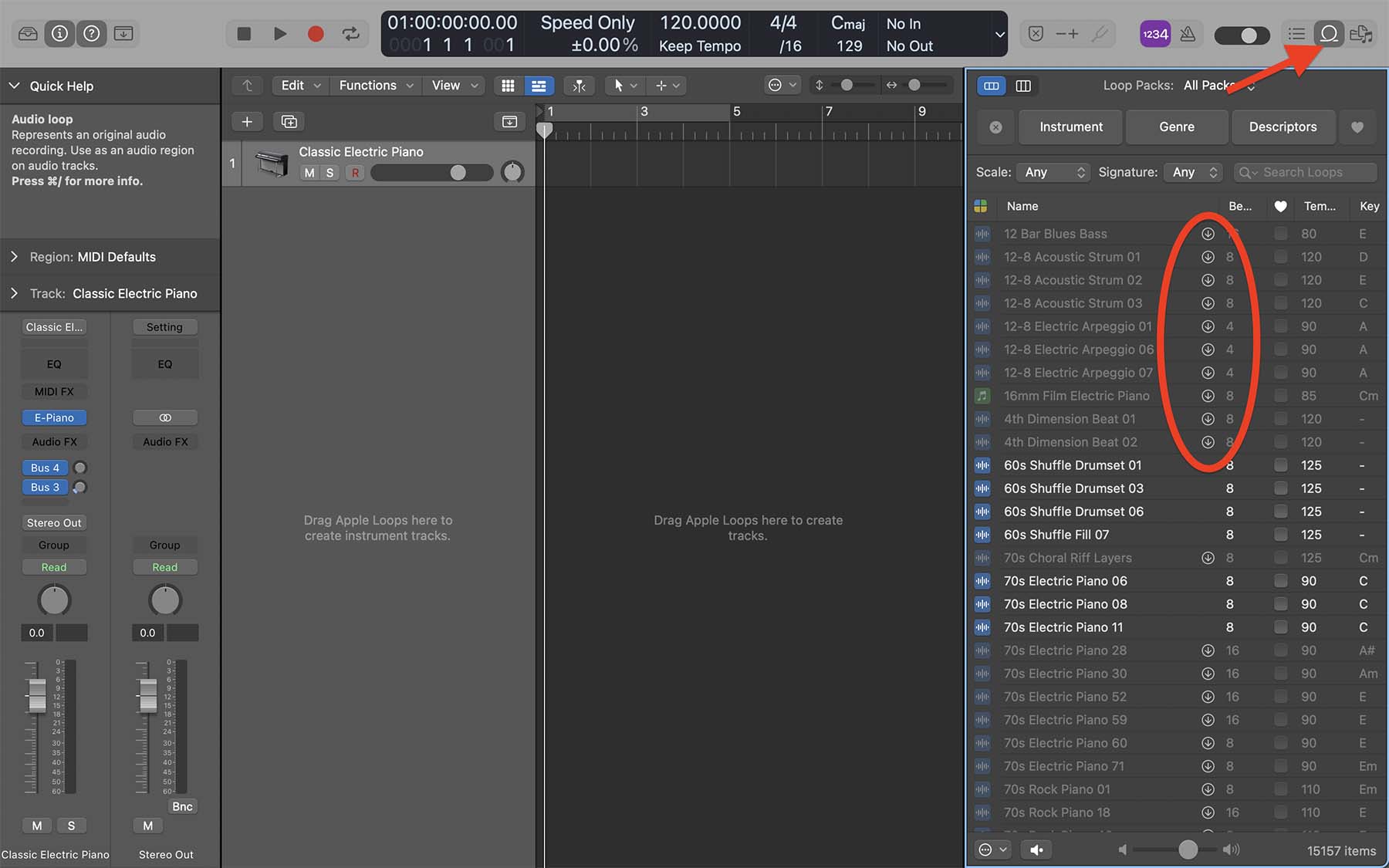 Apple's audio loops in Logic are fantastic tools to liven up your tracks for free without copyright issues. I have a video tutorial on YouTube on how to use audio loops like a pro.
How To Download Logic Pro For Free
Let's say you're still working in GarageBand or you are still not sure whether to move from Ableton or FL Studio. Well, that's okay. If you're not sure you want to purchase Logic Pro yet, you can take advantage of Apple's free 90-day trial version. It comes with all of the paid version's features and simply has a clock on the app that stops after 90 days.
To download this free trail version, click on the link below:
https://www.apple.com/in/logic-pro/trial/
From there, you can download the latest version of Logic Pro with a 90-day trial for free. Bear in mind that, unlike downloading it from the App Store, Logic won't install automatically. Once the Logic Pro free trial installer file is fully downloaded to your computer, open it from Finder and follow the instructions to install it.
Learning To Work With Logic Pro
Once you've completely downloaded and installed Logic on your computer, you're ready to start producing music.
If you're not sure where to start with Logic Pro or you find yourself overwhelmed with everything, don't worry. I was in your shoes as well. Logic Pro can be a difficult software if it's the first time you're stepping into it. To make the learning process easier, I suggest you get my free 6 pillars on learning Logic Pro faster. Besides that, you can check other posts on my blog and my YouTube channel, where I teach you everything you should know about music production. Have fun making music in Logic :)