How To Add VST's In Logic Pro
Mar 22, 2023
In this post, I'm going to teach you how to add VST's in Logic Pro.
Let's say you've been producing music in Logic Pro for a while now and you're quite familiar with all the stock Logic Pro instrument library but now you're looking to step up your game as a music produced by adding third-party VSTs.
Let's get one question out of the way, "what are VST's?" If you know the answer, meet us in the following section.
What Are VST's?
VST's stand for Virtual Studio Technology. Essentially, VSTs are software that can bring different audio effects or virtual instruments to your Digital Audio Workstation (DAW). Ever seen a Youtube video where a producer is using a software synth to play interesting melodies? Well, that is VST instrument. Back in the day, there was no such thing as software instruments or VST's. Everything was analog. That meant that everything was in a physical state and had tactile knobs and dials.
Take notice of the image below with all the analog hardware synths:
In today's modern world of music production, you don't need any of these hardware synths anymore. They are all available as VST instruments. However, that doesn't mean they're free. Also, it doesn't mean that VST's are necessarily 'better' than analog gear too. There are a lot of opinions on this matter. Here is a great video where I compare and $5000 Analog Synthesizer vs a $200 Software Synth.
Now that you know that VST = Virtual Software Technology, you need to know that there are two categories of VST's.
1. VST Instruments
Some VSTs simulate different synthesizers and instruments and create sounds on their own. For instance, the video above where I compare the Juno-60.
2. VST Plugins
VST plugins are the other category of virtual technology that you need to understand. These don't directly generate a sound. Instead, they change the texture of a pre-existing sound and spice it up. Otherwise know as VST effects. For example, IK Multimedia's AmpliTube is one of the best free music software that adds effects to guitar channels and can be used as a VST in Logic Pro.
Best Case Scenario - How to Install VST Files
In the best case scenario, install third-party VST plug-ins are as easy as pie. The plugin will come with an installer file that automatically maps each component to the correct folder. After downloading and opening up the installer file, open up a new instance Logic Pro. Upon opening, Logic Pro will scan for new plugins and audio units. Boom, that's it. Navigate to your new VST and it should run perfectly.
Take note of the image below, I am installing a free Vocoder plug-in from TAL Software. After downloading the plugin for their website, I would open up the installed package, show below: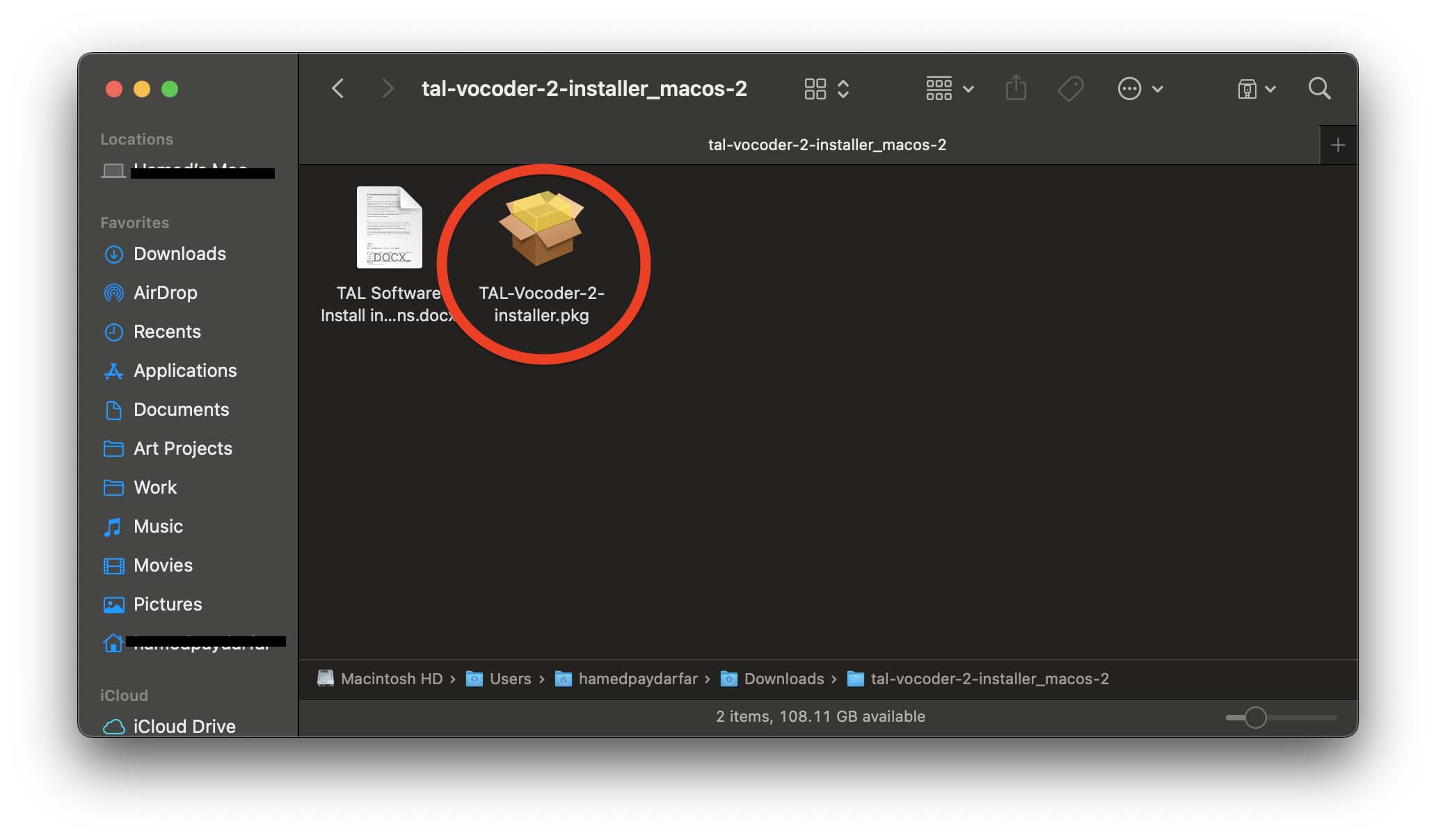 But it's not always this easy, that's why I would like to lay out the worst case scenario as well.
Worst Case Scenario - How to Install VST Files
First and foremost, make sure you've updated Logic Pro to its latest version. Once that's out of the way, go ahead and download any VST of your liking. I'll use the same plugin example as I did above, the free Vocoder plug-in from TAL Software. By the way, this is a great plugin that I use on a lot of my Logic Pro productions.
Since Logic is a Mac-based DAW, make sure the plug-ins you download are compatible with MacOS.
In this case, the TAL Vocoder we downloaded has a .pkg file, indicating we've downloaded the correct version.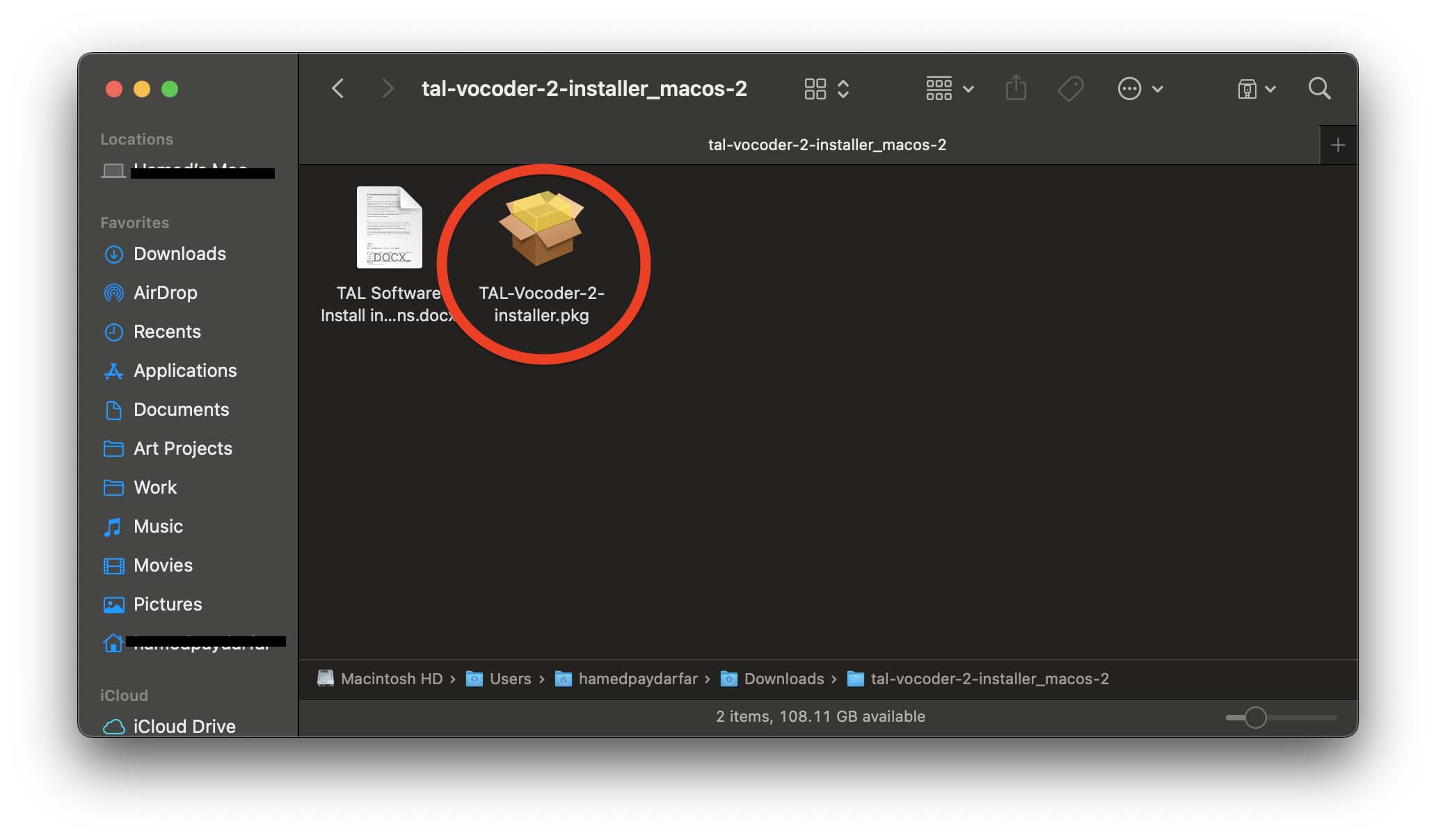 Before opening the file, I prefer to make sure my Logic Pro app is closed to avoid any bugs and glitches during installation.
Next, double-click on the installer file and follow the instructions. Most VSTs nowadays come with executable installer files that automatically map the plug-in's components to the proper folders.
However, if the VST you've downloaded doesn't come with an installer, you'll have to map the files manually.
Usually, audio plug-ins come with three types of files that you need to map: files with names that end with .component, .VST, and .VST3.
Copy and paste ".component" files here:

Macintosh HD > Library > Audio > Plug-Ins > Components

Copy and paste " .VST" files here:

Macintosh HD > Library > Audio > Plug-Ins > VST

Copy and paste " . VST3" files here:

Macintosh HD > Library > Audio > Plug-Ins > VST3
Note: if you can't find the "Macintosh HD" folder in Finder:
Click on Finder from the top left corner of the screen and open

Settings

.

From the Sidebar window, check the little box next to "

Hard disks

" from the "Locations" category.

Now, Macintosh HD must be visible on Finder's sidebar.
Tip: Learn how to use vocoders on vocals to create robotic or synthetic vocal effects. Vocoder plug-ins take a person's voice, break it down into its component frequencies, and apply those frequencies to a synthesized sound. This allows the synthesized sound to "speak" or "sing" in a way that sounds like the original voice.
How To Open Installed VST Plug-ins In Logic Pro
Once you've completely the best case scenario or worst case scenario installation of a VST, you're now ready to use it!. This step is easy, I promise. Sorry if you had to go through the worst case scenario.
The first time you open Logic Pro after installing a plug-in, Logic will show you a message saying "Scanning audio units". Depending on the size of the VST, this could take a few seconds or a few minutes. Just leave it be and let it load.
Once Logic Pro opens, navigate to the inspector window and add a new plugin or software instrument. Let's go through the example of adding a new plugin in Logic Pro:
Step 1
Click on the Audio Unit Slot to add a new plug-in.
Step 2
Scroll all the way down and hover the mouse over Audio Units.
Step 3
From there, find the manufacturer's name (in this case TAL-Togu Audio Line) and click on the VST you've installed.
Can't Find The Installed VST Among Available Plug-ins?
Sometimes the VSTs are not installed properly. In that case, you have two ways to troubleshoot:
From the top left corner of your screen, click on

Logic Pro > Preferences > Plug-in Manager (shown below).
From the "Manufacturer" sidebar, click the creator of the VST you downloaded.

Next to the plug-in's name, you'll find a checkbox. Make sure it is checked.
If you can't find the plug-in or the manufacturer's name in the Plug-in Manager window, look for an "Incompatible" folder. If the recently downloaded VST is populated there, select it and then click on "Reset & Rescan Selection."
Still Not Working?
These above two methods should work most of the time. However, if you still can't open the plug-in, there's one more thing you can check before you contact the VST manufacturer's customer service. The thing you can check is opening up Logic with a different mac setting. Meet us in the next section and I'll explain. Or, if you're super frustrated, reach out to them anyway. Most paid plugin companies are happy to help.
Tip: opening different VSTs and plug-ins in Logic Pro can consume a lot of RAM and CPU power. This can slow your computer down, stop you from adding new tracks, or even worse; close your Logic session without saving the progress. In order to avoid that, you can freeze tracks to help with computer processing.
Opening VSTs on M1 and M2 Macs
Apple's recent computers use ARM-based processors with a brand-new architecture. While these chips have tremendous advantages over Intel CPUs, some older plug-ins and software may not run natively on them.
If you're using a Mac computer with M1 or M2 processors, you can open Logic Pro through Rosetta. In simple terms, Rosetta is Apple's native code translator that makes intel-based programs readable for ARM-based chips.
To run Logic Pro using Rosetta:
Open Finder and go to the Applications folder.

Find Logic Pro, control-click on it, and click on Get Info.

Check the small box next to where it says "Open using Rosetta."
In some cases, this might make Logic run a little slower than usual and take more processing power from your computer. However, this is a compromise you should be willing to take if you can't run your favourite VSTs natively on your computer.
VST plug-ins are excellent tools to take your productions to the next level. It is best if you learn to use them one by one instead of downloading a bunch of them all at once and feeling overwhelmed by all the available options. Among the equipment and tools that I use in my studio, you can find a list of the plug-ins and equipment that I frequently use in my songs.
Final Thoughts On VST's In Logic Pro
I'm a big fan of paid plugins and paid VST's but what I don't tell beginners, is to get 'everything'. It's very easy to get distracted with what's popular. Especially, when we're scrolling through TikTok or Instagram looking at all the new coolest plugins that make our mixes "sound amazing." I'm telling you right now, a plugin won't save your mix. No matter how could the plugin is, the quality of the mix comes from the raw ingredients you put in. I can't say this enough!
If you're looking to improve as a music producer and get to the next level with your productions then I suggest you get my free 6 pillars on learning Logic Pro faster. I'm happy to help you out on your journey to becoming a music producer.