How To Use SpitFire Soft Piano In Logic Pro
Aug 23, 2023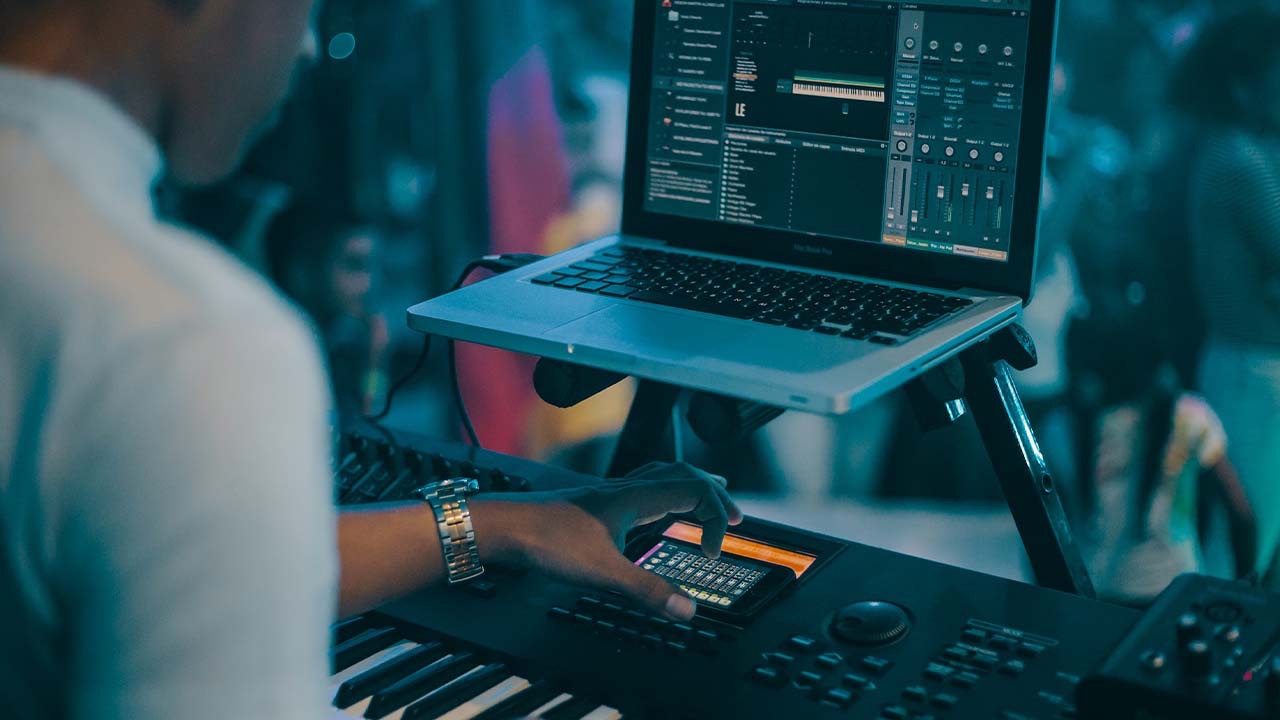 Thanks to the digital world, executing your sonic ideas has never been easier. Countless software programs are available on the internet that you can install in sheer minutes. All you need is a computer and a decent MIDI keyboard to unleash your creativity.
One of the world's most popular Digital Audio Workstations (DAWs), Logic Pro, is known for its extensive library of virtual instruments. The Alchemy, for example, is a powerful virtual synthesizer that unlocks myriad creative doors for producers and keyboardists.
Although impressive, Logic's virtual instrument might offer only some of what you're looking for, and that's where installing third-party VSTs comes to your aid.
SpitFire Audio offers many high-quality plugins for free that work seamlessly with Logic Pro. Among these, the Soft Piano is one of the most popular virtual instruments this company produces. In this post, I will guide you through every step of using SpitFire's Soft Piano in Logic Pro.
Installing SpitFire Soft Piano
Installing SpitFire's Soft Piano on Logic might be a bit more complicated than other third-party virtual instruments. But don't worry; I'll explain everything!
First of all, you must sign up on SpitFire Audio's website and then proceed to download their library manager from here.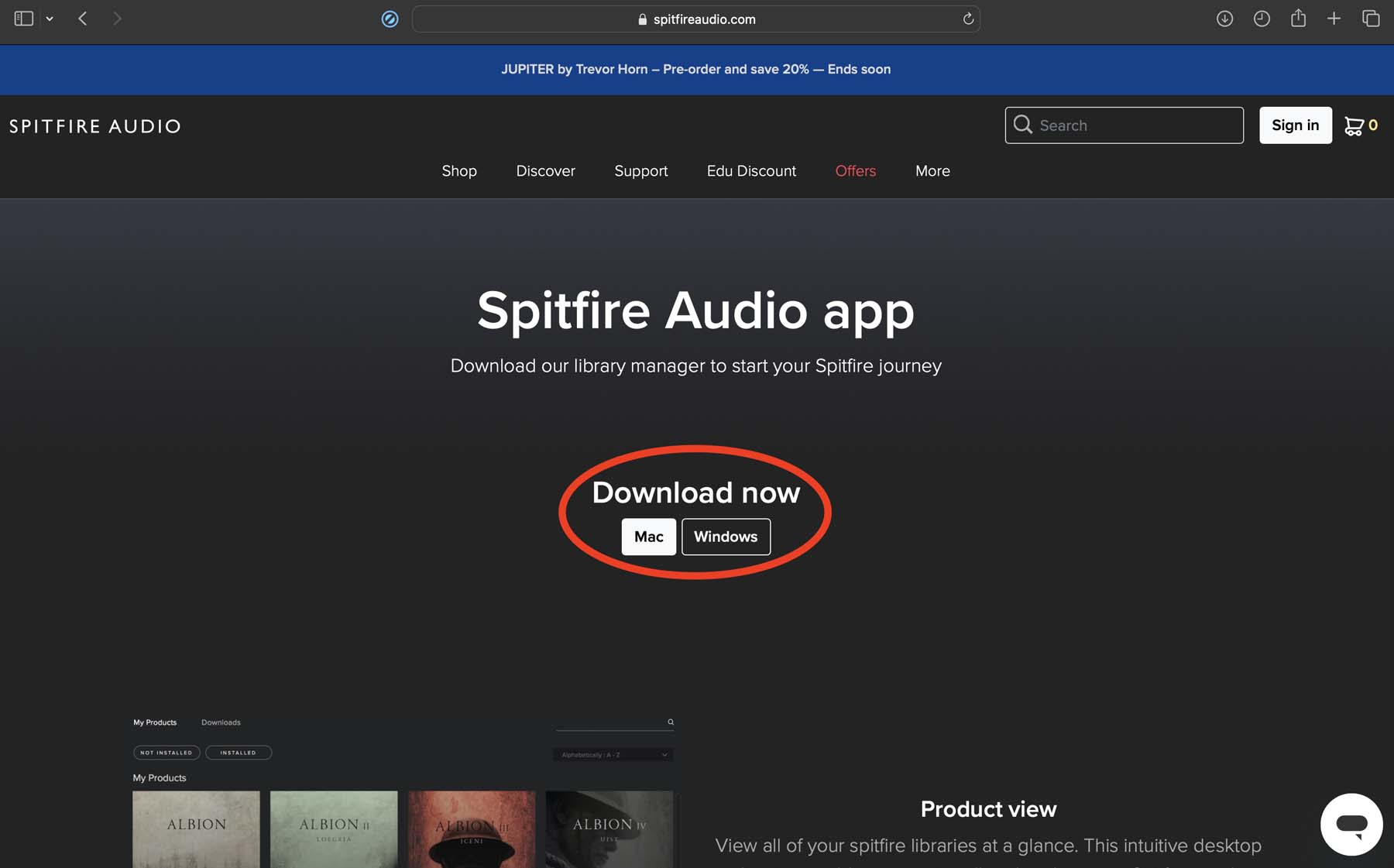 Locate the SpitFire Audio app on your Mac and open it. Select the "LABS" section and scroll down until you find Soft Piano. Alternatively, you can use the search bar on the top-right corner of the app's interface.
If you can't find the plugin in the library manager, open this link and click DOWNLOAD. The website will automatically take you to the Soft Piano page in the SpitFire Audio app.
Once you press "INSTALL," the app will ask if you want to install it directly to your computer's storage or on an external hard drive. You can track your downloading progress from the app.
NOTE: If you're using a Mac system with an Apple Silicon chip (M1 or M2) and the app doesn't open properly, you must open it using Rosetta:
Open "Finder" and navigate to "Applications."

Find the SpitFire Audio app and control-click it.

Check "Open Using Rosetta."
Make sure to close Logic Pro on your computer before installing VSTs to avoid bugs and problems during installation. If, by accident, you had Logic open, go ahead and close it and reopen it.
Tip: MIDI Keyboards are among the most essential equipment pieces you need in your studio. While it is possible to trigger MIDI notes without a keyboard, I highly recommend investing in one to pursue music production more seriously. In another post, I explained everything you need to know about connecting your MIDI keyboard to Logic Pro.
Opening The Soft Piano VST In Logic Pro
Opening Logic for the first time after installing a new plugin might take longer than usual. This is a one-time process that Logic runs to check the new software. Once your session is loaded up completely:
Click the little "+" button on the top-left of Logic's workstation.

Select "Software Instrument" and click on the Instruments list.
Scroll down the instruments list and click "AU Instruments."

Hover your pointer on "SpitFire Audio" and select "LABS."

Click "Create."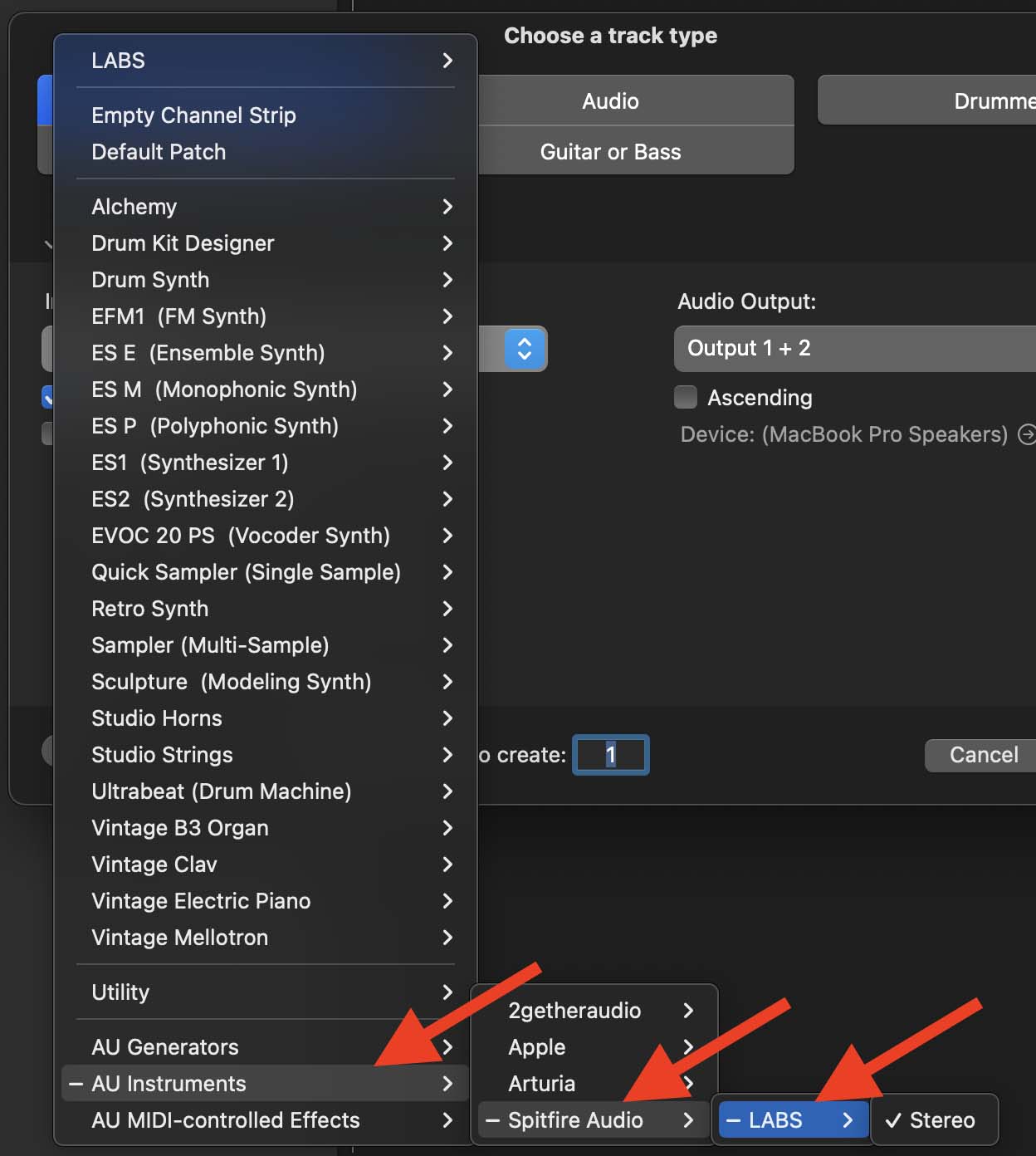 Now you can use your MIDI keyboard to play and record SpitFire's Soft Piano virtual instrument in your project. Moreover, you can open SpitFire LAB's plugin on your track to adjust different parameters:
Click the little "i" in a circle from the top-left of your screen to open the Inspector menu.

Select "LAB" from the Inspector menu.
As you can see, the interface is pretty straightforward. The big knob in the center of the plugin controls the built-in reverb. Above that, you can control panning, tune (transpose), and volume.
SpitFire recorded the audio for this plugin back in 2008 on a dry stage in London using an acoustic piano. They achieved the exquisite warmth you hear in the track by placing a thin strip of felt between the hammers and the strings. The authenticity of this plugin's sound makes it an excellent choice for slow and intimate songs.
Tip: Working with MIDI can open many creative doors in your music production projects. Logic Pro's MIDI tools allow you to adjust every detail of MIDI notes with surgical precision. While helpful, fine-tuning everything perfectly to the grid can take away the human quality of your track and make it sound too robotic. Therefore, it is important to know how to make MIDI instruments sound natural in Logic Pro.
Final Thoughts: Making Use Of SpitFire Audio Plugins
SpitFire's Soft Piano is a killer virtual instrument you can install on Logic for free. Moreover, you can explore SpitFire's library manager to take advantage of lots of other amazing plugins without spending a dime.
If you're a newbie in music production, I highly recommend learning the tools available in Logic before paying hundreds of dollars for premium plugins. In one of my YouTube videos, I explained why I started music production with no paid plugins. Similarly, SpitFire's free plugins offer a lot of value, but installing a bunch of them all at once might overwhelm you and be counterproductive.
If you need more help regarding music production, songwriting, mixing, or mastering, I suggest downloading my Free 6 Pillars To Learn Logic Pro Faster.