Logic Pro On iPad: Is It Any Good?
May 13, 2023
Up until now, pursuing music production professionally required a capable Mac or Windows computer to work with industry-level digital audio workstations (DAWs). However, thanks to the advancement of technology, making music on more portable devices might be a possibility.
Apple's Logic Pro is one of the most popular music production softwares on the market for Mac computers. Recently, Apple announced Logic Pro for iPad . They've made hints of his happening before now it's finally here!
While this might initially sound exciting, several obstacles and limitations might make music producers reluctant to switch from their computers to tablets. Would you?
Without further ado, let's take a look at everything Apple has given us so far regarding Logic Pro on iPad and see if it can truly replace your computer.
How Can I Install Logic Pro On iPad?
On their official website, Apple announced that Logic Pro for iPad will be available on the 23rd of May, but there's a catch; unlike the MacOS version that comes as a one-time purchase, Logic Pro will be available as a monthly subscription. The first month comes for free. Later, users have to pay $4.99/month or $49 a year to use Logic on their iPad.
I personally don't think that's a good idea for the customers. We've seen plenty of other music production software slowly fade away in popularity after switching to a subscription-based program.
According to Apple, you'll need an iPad that features an A12 Bionic chip or later, running iPadOS 16.4 or later. That means 8th-generation iPads, third-generation iPad Airs, and fifth-generation iPad minis or later. Unforunately, the dusty iPad have on your coffee table to read the news and play music, likely won't work with Logic Pro.
However, I don't think any models older than iPad Pros with M1 and M2 chips have any chance of replacing a MacBook for music production.
Logic's Exciting New Features On iPad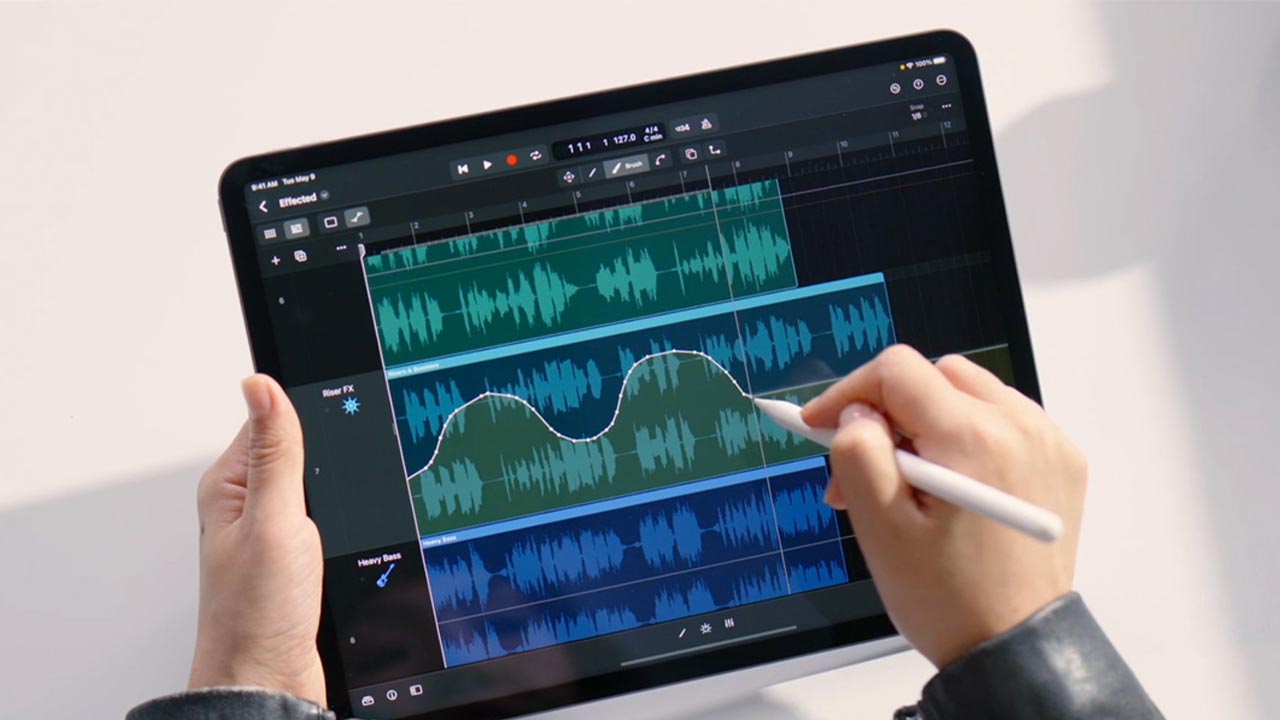 iPad's touchscreen and pressure-sensitive Apple Pencil can open many new creative doors in how users interact with Logic Pro.
Working with the step-sequencer in Logic Pro can be significantly easier, considering you can use multi-touch to trigger different blocks when sequencing drum sounds.
Moreover, with an Apple Pencil, producers can use automation tools with precision and manipulate some of the smallest details in specific editing parameters. I really like this feature and I can see myself wanting to use this when I program automation. I always struggle a bit to find the perfect, organic, curve with a mouse. However, with the Apple Pencil, this opens up a lot of new and exciting doors.
If you're a Logic Pro user, you know how shortcuts and key commands save you a ton of time when working on your project. Thankfully, Apple mentioned that those shortcuts will be available on the iPad's Magic Keyboard and Smart Keyboard Folio.
Apple announced that Logic Pro on iPad comes with an expanding collection of brand-new sounds, loops, and instruments. Logic Pro on Mac has always been praised for its stock virtual instruments and sound library. It's nice to see Apple focusing on Logic's proven advantages.
Another aspect of Logic on iPad that I personally look forward to is what Apple calls "Roundtrip Compatibility."
This feature allows users to move projects between different devices. You can start a project on a Mac and continue where you left off on an iPad, making music-making even more accessible for musicians and producers on the road. Or moreover, I can see myself starting a production in my home studio in the morning on my Mac and then switching to the couch with my iPad in the afternoon. Not bad!
Lastly, Logic Pro on iPad is compatible with different studio hardware.
In theory, you should have no problem connecting your MIDI keyboard and audio interface to Logic Pro on your iPad.
Some Concerns And Drawbacks
Undoubtedly, Logic Pro on the iPad can provide a passage to the world of music production for many newcomers and beginners. But can it really be a 'Pro' software for seasoned producers?
Well, there are some serious limitations and drawbacks in working with an iPad that professionals cannot neglect. Let's dive in.
Adding VSTs and plug-ins on Logic Pro is critical for skilled music producers. Apple boasts that Logic on iPadOS will be compatible with different third-party instruments and effects, including Eventide, FabFilter, and Moog Music plug-ins. However, it is evident that not all developers will spend tons of money on re-programming all their VSTs for the iPad, not at least in the foreseeable future.
Another inevitable drawback of an iPad is insufficient RAM and processing power. Sure, you can configure iPad Pros with an M2 chip and 16GB of RAM; insane for a handheld device. While that's enough horsepower for beginners and even intermediate music makers, composers and producers who want to use multiple tracks and plug-ins simultaneously will face problems.
What's Going To Happen With Music Production In 30 Years?
I think this is the first step for producers to start to get comfortable with producing music on a tablet and not on the computer. To be honest, I don't like change to much because I built such a great studio workflow with my setup. I'm happy with how things are going, why change!
I do not think that's the right mindset though.
We need to change and adapt to new technology. I understand that this new Logic Pro for iPad is just in it's infancy. However, it will slowly improve and we need to start adapting to it, little by little. Think about it. Do you want to be the person the ignored the internet? Phone? or Email? I'm not saying this is at the calibre of innovation as these but it's the thought behind it. Tablet and tactile production are just around the corner. Start getting used to it!
Final Thoughts: Should You Get Logic Pro On iPad?
Logic Pro on Mac is known as a capable DAW for world-class music production. While the iPad version carries the same name, it is unclear if it's targeted at true professionals. I highly doubt if, at least for now, Logic on iPad can fully replicate the experience of working with the MacOS version without making any compromises.
Logic on iPad can be an excellent secondary software for producers who already have an iMac or Mac Studio and are looking for a portable option to work on their projects outside their studio.
If you have an iPad and want to dip your toes in the world of music production, Logic Pro for iPadOS can be a fantastic introduction.
However, If you want to invest your time and energy into learning how to produce in Logic Pro beyond an occasional hobby, I wouldn't recommend getting an iPad. Though more expensive, opting for a capable Mac computer can pay off significantly more in the long run.
If you need help regarding music production, songwriting, mixing, and mastering with Logic Pro on Mac, I recommend downloading my free 6 Pillars to Learn Logic Pro Faster guidebook.